Heart Health and PulsePoint
Spread the Word
WELCOME TO THE PULSEPOINT HEART MONTH RESOURCE TOOLKIT
Here you'll find ideas and resources to engage and encourage your citizens to take care of their hearts, learn CPR, register AEDs, and download PulsePoint.
Many of the referenced image assets are available for immediate download. For all other marketing needs, please contact shannon@pulsepoint.org.
Not looking for Heart Month specific ideas? Our Resources page contains a host of general assets including PSAs and tutorial videos.
Marketing Ideas
Leverage your community's coffee habit! Branded coffee sleeves that could be distributed to area coffee shops. Include PulsePoint download information, local CPR training opportunities, or encourage the registration of AEDs.
Do you have a community channel or other local broadcast opportunities? Use one of our "in the can" PSA's!

Use our ready-to-go postcards or business cards to include in a utility bill or agency notice. Include them as part of a normal mailing.
Engage your local service or community groups (parent groups, Boy/Girl Scouts, veterans, hospital volunteers, etc.) to take CPR classes, register AED's and download PulsePoint.
Is your community hockey or basketball-crazy? Many professional, minor league, college, and even high school teams have community marketing opportunities during games; leverage public service nights or other theme events to partner with them to increase awareness.
Utilize our new template CPR/PulsePoint Infographic to hand out at events, provide to CPR instructors, or anywhere you want to market CPR and PulsePoint.
See if your local recreation guides, community bulletins, civic newsletters, or email distributions can include a Heart Month advertisement or editorial "blurb" on CPR, AED, and PulsePoint awareness. These publications have an incredible shelf life and are a great way to get into every home in your jurisdiction.
Check with your local billboard companies (Adams Outdoor, Fairway, Lamar, etc.) to see if they would be willing to donate screen time on their digital billboards. We have dynamic templates with live data connections to your latest stats, ready to go.
Add a custom header or footer to all staff emails this February to raise awareness.
Post this AHA infographic on COVID-19 and Adult CPR.
Heart Month is the perfect time to start your free PulsePoint AED registry. Use this press release template to announce the community initiative.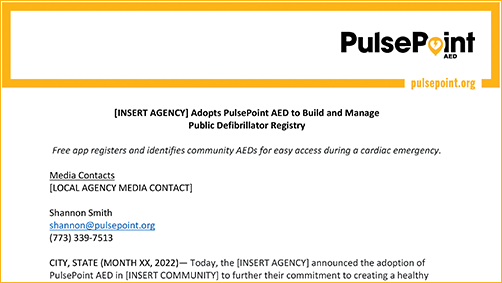 APPARATUS DECALS
Brand your apparatus and staff vehicles with custom 3M reflective stickers letting your community know you're PulsePoint connected.
REGISTERED AED CABINET STICKERS
Place these stickers on cabinets and other enclosures to indicate that an AED has been added to the community registry. The stickers also serve to increase program awareness and encourage others to register additional AEDs. The QR code included on the sticker links to the app download page to promote participation.
Registered AED stickers are available from the PulsePoint Foundation.
RESPONDER MAP
Have you checked your responder map recently? You can get a similar image on demand in your agency portal. Use this image for social media posts or include it with a media alert to local press. Show the power of engaging your community in the fight against Sudden Cardiac Arrest!
Get Social
Social Media is a cost-effective and dynamic way to get your message to your community. Use your trusted voice to get the word out. We have crafted Twitter, Facebook, and LinkedIn banners below as well as some social media posts that will start the conversation and increase heart disease and PulsePoint awareness.
TWITTER BANNERS
Social Media Shorts
Encourage community involvement by incorporating these short videos into your social channels.
Click Share icon to download.
Social Media Images
Stand-alone social media images with relevant Heart Month, cardiac arrest and AED statistics.
Click image for full size version.
Social Media Images (Instagram)
Click image for full size version.

Suggested Posts
FACEBOOK
#tbt (Throwback Thursday) posts touting your PulsePoint launch, your previous follower numbers vs. how many followers you have today and maybe even a re-post of a great save story. Check your monthly report for the latest stats.

Ex: Check out PulsePoint's first logo from July 2011! Since their 2011 launch the foundation activated more than 675,000 nearby responders to 200,000 CPR-needed alerts.

February is ❤️ Month, but you can do more than just wear red. Learn CPR. Download the PulsePoint app. Save a life.
This February, during ❤️ Month, show your support by learning CPR and downloading the PulsePoint app. We can make our [INSERT COMMUNITY] heart safe by preventing the nearly 1000 deaths a day caused by sudden cardiac arrest.
This Valentine's Day, show some ❤️ by learning how to save a ❤️. Learn CPR. Download PulsePoint. Save a Life.
If you could save someone's life, would you? In honor of ❤️ Month, learn how mechanic Jeff Olson saved the life of five-week-old Nolan Garrison by learning CPR and downloading the PulsePoint app. WARNING: Tissue Advisory. 😭 Video (2:52), Video w/subtitles (0:46).
Tag @PulsePoint
TWITTER
This #HeartMonth do more than wear red, become a lifesaver! Learn CPR, download @PulsePoint and save a life! @1000livesaday
February is #HeartMonth! Learn CPR, register AEDs and download @PulsePoint to make our community heart safe!
February is #HeartMonth. Become a lifesaver by learning CPR and downloading @PulsePoint. Nolan was just 5 weeks old when his life was saved by a PulsePoint responder. Video (2:52), Video w/subtitles (0:46).
Nearly 1000 people die every day from sudden cardiac arrest. This #HeartMonth learn CPR and download the @PulsePoint app and help save a life.
Although a heart attack and a cardiac arrest are different, a heart attack can lead to sudden cardiac arrest and the need for immediate intervention with CPR and an AED. This #HeartMonth, learn CPR, register AEDs and download @PulsePoint!
Include @PulsePoint, @1000livesaday, #HeartMonth
Custom On Hold Messaging
AGENCY ON-HOLD SCRIPT
Does your agency have an on-hold message? Update it for Heart Month!
"February is Heart Month. Support [INSERT COMMUNITY] in becoming a heart safe community by learning CPR, downloading the PulsePoint app and following [INSERT AGENCY]. The app will tell you when someone nearby is having a cardiac arrest so that you can start CPR before our crews arrive. Seconds matter and your actions could help save a life."
Radio PSA
RADIO PUBLIC SERVICE ANNOUNCEMENT (:45)
FEBRUARY IS HEART MONTH. SUPPORT [INSERT COMMUNITY] IN BECOMING A HEART SAFE COMMUNITY BY LEARNING C-P-R, DOWNLOADING THE PULSE POINT APP AND FOLLOWING [INSERT AGENCY]. THE PULSE POINT APP WILL TELL YOU WHEN SOMEONE NEARBY IS HAVING A CARDIAC ARREST SO THAT YOU CAN START C-P-R BEFORE PROFESSIONAL RESPONDERS ARRIVE. IT WILL ALSO DIRECT YOU TO THE NEAREST PUBLIC A-E-D, OR AUTOMATED EXTERNAL DEFIBRILLATOR, SO YOU CAN SHOCK THE HEART BACK INTO RYTHYM. SECONDS MATTER AND BYSTANDER C-P-R RESPONSE CAN TRIPLE A PERSON'S CHANCE OF SURVIVAL FROM A CARDIAC ARREST. LEARN C-P-R. DOWNLOAD PULSE POINT. SAVE A LIFE. VISIT PULSE POINT DOT O-R-G FOR MORE INFORMATION. [OR INSERT LOCAL AGENCY WEBSITE.]
Spanish-language materials
Si hablas español?
Marketing materials are available in Spanish! Send a note to shannon@pulsepoint.org to get your customized set of Spanish-language materials today.