September 5, 2023
More than Statistics
Survivor Stories to Inspire
Whether increasing cardiac arrest survivability is part of your job or your passion (or both), it's easy to fixate on statistics instead of celebrating the survivors. So we've compiled some recent "save stories" from around the country and the PulsePoint responders who made their survival possible. If your agency has a PulsePoint survivor story to share, please email shannon@pulsepoint.org. Your successes inspire us and fuel our passion to strengthen the chain of survival and increase cardiac arrest survivability.
Tualitan Valley, Oregon
Jim and Alexandra Stears were at home when Jim suddenly went into cardiac arrest while watching TV. Luckily, their neighbor is Tualatin Valley Fire & Rescue Lt. Jason Morgan, who was at home when he received a PulsePoint Professional Responder alert on his phone indicating that CPR was needed at a private residence...next door. Morgan retrieved his Philips AED, which he obtained through the PulsePoint Professional Responder pilot program, and made his way to the Stears' home, with his wife and son by his side. When Alexandra opened the door she was initially surprised by EMS' quick response, but then soon realized it was her neighbor and later remarked, "Oh, that's good. He's got the right training." Jim went on to make a full recovery after receiving high-quality CPR and a shock from the defibrillator, all before crews arrived.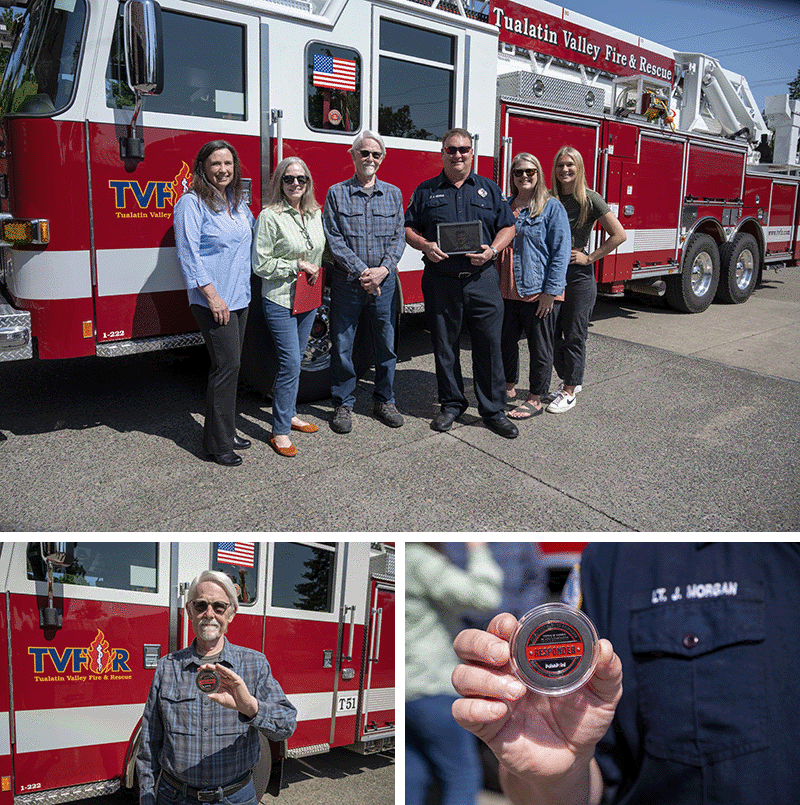 Poudre, Colorado
John Johnson and his wife Donna were visiting their son Mike and his wife Carolina when John suddenly collapsed in the backyard. At first they thought he fainted, but realized while relaying information to 9-1-1 that he had in fact suffered a cardiac arrest. Only blocks away off-duty firefighter Olivia Deadmond was getting dressed when she received a PulsePoint Professional Responder alert. She quickly made her way to the address provided and found Mr. Johnson lifeless in the backyard. She assessed him, provided CPR and was able to relay vital information, while continuing CPR, to the arriving emergency responders. Johnson has made a full recovery, walking four miles a day as part of his cardiac rehab.
Fairbanks, Alaska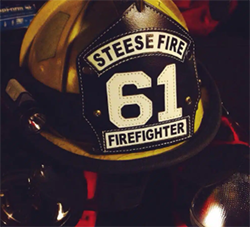 Recently Steese Fire Department firefighter Damian Casillas was shopping at the Fairbanks Home Depot when his PulsePoint Respond app alerted him to a nearby CPR-needed event. Firefighter Casillas responded to the indicated location to find a patient unresponsive with ineffective bystander CPR being done. Firefighter Casillas took over compressions and worked with the Fairbanks Fire Department when they arrived and eventually achieved ROSC (return of spontaneous circulation) at which time the patient was transported to Fairbanks Memorial Hospital. The fire department credited firefighter Casillas' fast action and high-quality CPR with the patient's survival.
Eugene-Springfield, Oregon
HEARTsafe Eugene Springfield told us about an incredible cardiac arrest response and the "mystery" responder that arrived on scene and provided, high-quality, life-saving CPR. We had a hunch it could be a PulsePoint responder. The survivor, George Koskela, and his wife, surprised Cyndy Meno (pictured in the middle), an EMS instructor, in her classroom to thank her for her life-saving actions. Cyndy did in fact receive a PulsePoint CPR-needed alert, which directed her to George's location--less than a block away.
Madison County, Indiana
In April, the Edgewood Fire Department received a dispatch call for a cardiac arrest. Upon arrival, Officer Lovell of the Edgewood Police Department determined that the patient was not breathing and had no pulse. He immediately initiated CPR and placed an AED on the patient. EMT Jensen, who lived nearby, arrived shortly after and joined in the resuscitation efforts. Jensen was mowing his yard at the time and was notified that a cardiac arrest was nearby via a PulsePoint Professional Responder alert.
As Ambulance 94 arrived at the scene the AED delivered its first shock , and the Lapel Fire Department was called for additional manpower for the working cardiac arrest. With a second shock delivered from the AED, Deputy Chief Frazier checked for a pulse and found that the patient achieved ROSC. The patient was then rapidly transported to a local hospital.
After several weeks of hospitalization the patient, Brett Gribble, was discharged from the hospital without any neurological deficiencies and is back to work.
Left to right: LT. David Covey, Asst. Fire Chief Jon Frazier, cardiac arrest survivor Brett Gribble, EMS Driver/PIO Jessa Ashton, Cadet Justin Lapeer and Captin Branden Gaunt.
Sussex County, Delaware
In early July, Sussex County Emergency Operations Quality Assurance Coordinator, Steven Deery Jr., was woken by a PulsePoint alert on his phone indicating CPR was needed at a neighbor's home less than a quarter mile away.

He arrived in minutes, assessed the patient and finding her unconscious with no pulse he began high performance chest compressions while talking to the patient's husband and gathering information for EMS, which arrived a few minutes later. Together they achieved ROSC on scene and the patient was transported to the hospital.

The patient, seen below with Mr. Deery, has made a full recovery.
Kern County, California
Medic Jacqueline Meadows was off-duty and at home in her rural community inside Kern County when she received a PulsePoint Professional Responder alert indicating that someone at a home just down the street was suffering a sudden cardiac arrest. She quickly made her way to the home, finally finding her way to the backyard where the wife, Megan, was performing dispatch-guided CPR on her husband, Ian. Jackie took over, providing high-quality CPR while also directing Megan to unlock the house and prepare for the arrival of the fire department. When fire arrived they recognized Jackie as a colleague and she continued to assist as they established airways, shocked the patient twice and even readied an airlift knowing the nearest cardiac facility was more than hour away. Ian survived and is currently undergoing cardiac rehab after receiving two stents. This was actually Jackie's second PulsePoint alert and her second confirmed save while using the app.
Filed Under: News, Highlights | Tagged With: Save Stories, Survivability, Chain of survival, Cardiac arrest survivability, CPR Saves Lives, TVF&R, Tualatin Valley Fire & Rescue, Poudre, Fairbanks, Eugene, Springfield, Madison County, Sussex County, Kern County, Cardiac arrest survivors, AED, Automated External Defibrillator