September 26, 2017
Off-Duty Firefighters Partner with National Pilot Program to Save Lives
Madison, WI – A new pilot program will allow off-duty City of Madison firefighters and paramedics to provide life-saving care when someone experiences a sudden cardiac arrest (SCA) in their home.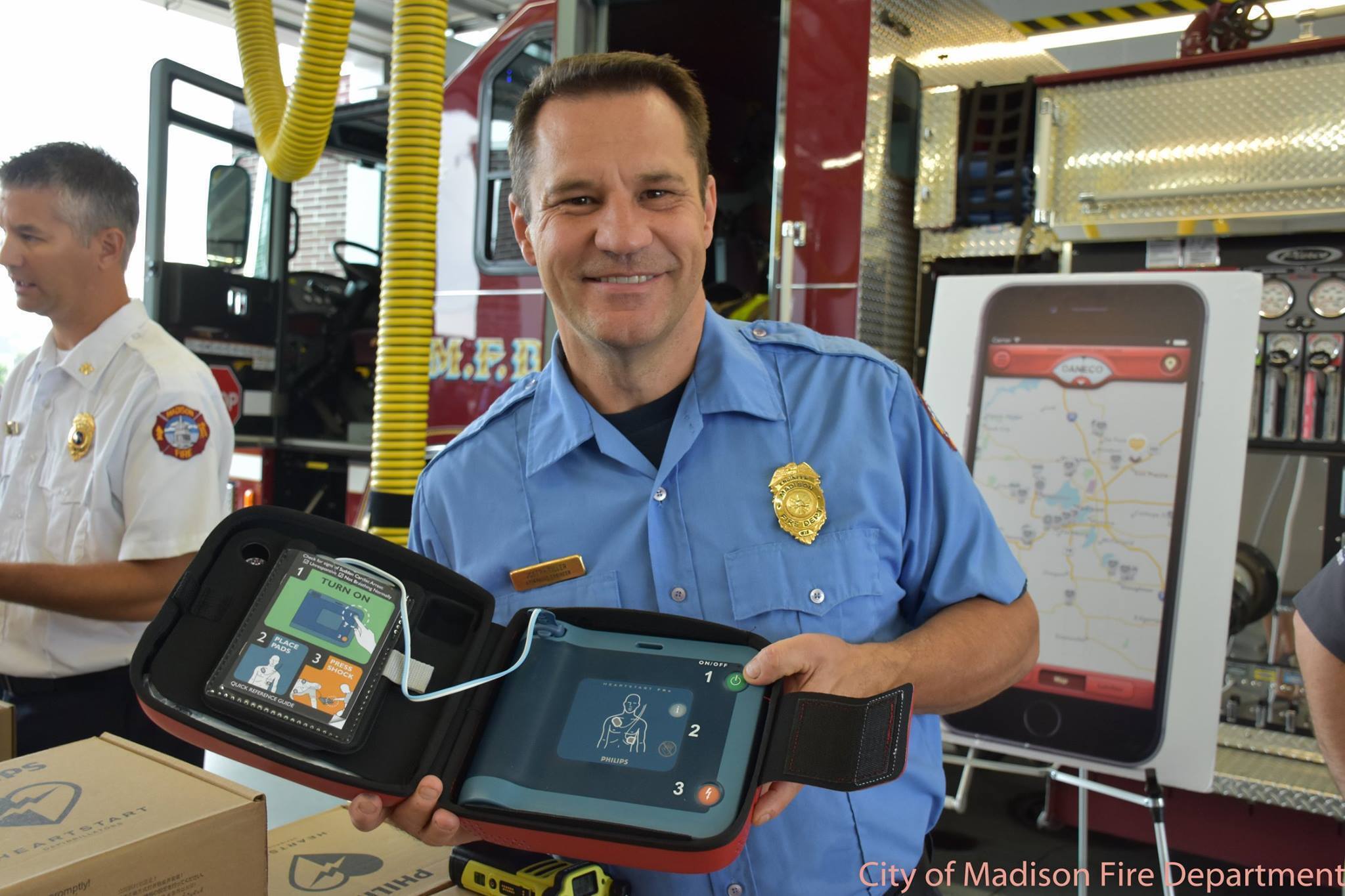 Madison only fourth city nationally to participate
The PulsePoint Verified Responder Pilot Program launches in Madison through a partnership of the PulsePoint Foundation, Madison Fire Department, International Association of Fire Fighters Local 311, and automated external defibrillator (AED) manufacturer Philips.
"With Verified Responder, we now have the new opportunity to send off-duty professional firefighters and paramedics from the Madison Fire Department into a home or private location in response to a cardiac arrest in the City of Madison," explained City of Madison Fire Chief Steven Davis. "We are honored to be the fourth site in the country selected for the Verified Responder program, which will dramatically broaden our impact to save lives."
In February 2015, the smart phone app PulsePoint was launched in Madison and Dane County to improve cardiac arrest survival rates by notifying CPR-trained citizen volunteers when someone is experiencing a cardiac arrest in a nearby public location. But nearly 74 percent of cardiac arrests in Madison occur at home, which is why the addition of Verified Responder is so important.
The Verified Responder Pilot Program utilizes the PulsePoint app and alerts trained responders of a SCA in private locations. In addition, Philips is providing an AED for use by every participating firefighter and paramedic so that if they respond, they can employ the same technology that is used by emergency medical responders and physicians when a heart has stopped beating. Participants from the Madison Fire Department are certified emergency medical technicians (EMTs) or paramedics who receive background checks as part of employment as sworn public safety personnel.
More than 350,000 Americans each year suffer an out-of-hospital sudden cardiac arrest (SCA) where the heart suddenly and unexpectedly stops beating. Nearly 90 percent are fatal. If treated early with CPR, and in some cases defibrillation, the chances of survival can double or even triple. "Studies have shown time and time again that the two major determinates of survival from out-of-hospital cardiac arrest are immediate bystander chest compressions and prompt defibrillation," said City of Madison Fire Department Medical Director Michael Lohmeier. "This program significantly increases the opportunity and access to both of those life-saving interventions, and therefore has the opportunity to positively impact survival rates in the City of Madison. We are excited to see these results become a reality."
The effort will gather important data from the City of Madison's pilot program, and will combine it with existing technology and clinical insights to inform future lifesaving strategies and products. During the pilot, King County Emergency Medical Services (EMS) in Seattle will assist with programmatic evaluation for potential expansion to additional communities. The pilot program runs through December 2018.
"Our firefighters feel a great responsibility to the community that we serve, and we are excited to now be able to make our members available to those suffering from cardiac arrest, both on-duty and now off-duty as well, 24-hours a day," said Mahlon Mitchell, President of International Association of Fire Fighters Local 311. "We look forward to utilizing the Verified Responder program and are hopeful that we can make a significant impact to those in need of help."
Access to the PulsePoint app has been funded by the UnityPoint Health-Meriter Foundation since its launch in Madison and Dane County in 2015. There are 26,000 PulsePoint users locally. The app is now in more than 2,500 communities in 35 states with more than 1,000,000 users nationwide.
About the PulsePoint Foundation
PulsePoint is a 501(c)(3) non-profit foundation based in the San Francisco Bay Area. Through the use of location-aware mobile devices, PulsePoint is building applications that work with local public safety agencies to improve communications with citizens and off-duty personnel, empowering them to help reduce the millions of annual deaths from sudden cardiac arrest. Learn more at pulsepoint.org or join the conversation at Facebook and Twitter. The free app is available for download on iTunes and Google Play.
###
Media Contacts
Cynthia Schuster (Public Information Officer), (608) 261-5539, cschuster@cityofmadison.com
Source: City of Madison Press Release